Royal Black Winter Tyres Available in Newtownards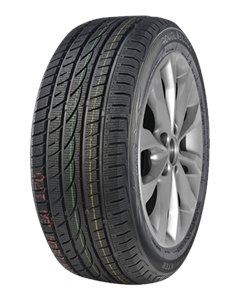 Winter
Enhance ice surface performance-cellular rubber with silica compound and micro-pumps on tread blocks have function of absorbing water from ice surface, eliminating slippery factor and improving grip.
New innovation design of tread sipes - full 3D zigzag shaped sipes enhance rigidity of tread blocks and thus help to maintain maximum contact patch and to minimize shape twist of grooves for better water/slush evacuation.
Center rib design features empty pitches, with long and narrow following wide and short - improving accelerating traction and reducing noise, and S-shaped sipe to enhance accelerating traction.
Wide circumferential and lateral grooves designed to evacuate water and slush efficiently.
Shoulder blocks feature W-shaped micro-grooves which increase responsiveness of tyre while cornering, also being an addition to decorative pattern of shoulder outer wall.
9 different tread block shapes which are used to decrease noise.