Michelin e.primacy Tyres Available in Newtownards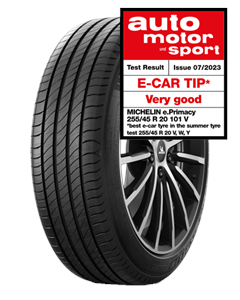 e.primacy
Reduce fuel consumption, CO2 emissions and an extended electric vehicle battery range with MICHELIN e·PRIMACY, an eco-responsible tyre, made to last.
MICHELIN eco-designed summer tyre for fuel, hybrid and electric vehicles
Lowest fuel consumption and CO2 emissions in its category
Extended battery range for electric vehicles
Long-lasting safety, from the first kilometre to the last
Excellent longevity
Features and Benefits
Fuel saving and low CO2 emission tyre
MICHELIN e.PRIMACY continues the promise of the MICHELIN Energy Saver tyres, a pioneering range of low fuel consumption tires[9]. Saving you money and lowering fuel costs, whilst reducing your carbon footprint by up to 174kg of CO2 during usage of the tyre. Enjoy the lowest fuel consumption and CO2 emissions in its category. Energy Passive Compound reduces energy dissipation. A slim belt using less raw materials improves fuel consumption for more eco-friendly driving.
Smooth, stress-free electric journey
Enjoy stress-free electric driving with the MICHELIN e.PRIMACY tyre thanks to an increased 7% battery range on average for your electric vehicle. That's about 30 additional kilometres for a 400km estimated range. An air-tight EnergyAirShield Compound reduces energy dissipation while the CoolRunning Sidewall absorbs less energy during flexion, extending the car battery range and leading to more efficient driving for all your journeys.
High standard of safety, made to last
Experience a high level of safety with the MICHELIN e.PRIMACY eco-designed tyre. This innovative tyre features a U-shape groove to maintain a high level of water evacuation for safety throughout the life of the tyre. Even after 30,000 kilometres of use, braking distance remains below the legal homologation level for a new tyre. Peace of mind for you and your family when driving on wet days.
Excellent longevity
Choose the MICHELIN e.PRIMACY tyre for excellent longevity. The MaxTouch Construction maximises road contact, evenly distributing the forces of acceleration, braking and cornering to deliver longer tread life without sacrificing performance. Enjoy excellent mileage with a tyre built to last.