Continental EcoContact 6 SSR Tyres Available in Newtownards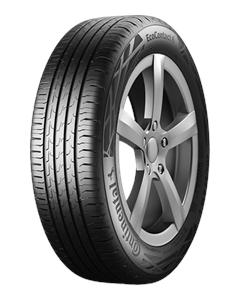 EcoContact 6 SSR
Fuel efficient performance for your vehicle.
We bring German technology to your car.
Enhanced mileage due to Green Chili™ 2.0 compound
Maximum fuel efficiency
Optimised grip and handling experience
Maximum fuel efficiency
The EcoContact™ 6 is 15% more fuel efficient than its predecessor thanks to its unique compound technology. The EcoContact™ 6 compound includes an optimised polymer network which allows the tyre to react to varying road conditions, which ultimately improves the tyre's rolling resistance and fuel consumption.
Green Chili™ 2.0 for enhanced mileage
The advanced Green Chili™ 2.0 compound reduces both the deformation and heat build-up of the tyre. This results in lower fuel consumption and a reduction in the CO2 emissions. It also reduces the rubber loss throughout its life cycle ensuring mileage is increased.
Optimised grip and handling experience
The EcoContact™ 6 variable groove pattern structure enables great wet and dry performance regardless of tyre size. Thanks to its innovative asymmetric rib and sipe geometry, the tyre always keeps the contact with the road, delivering safe a reliable grip when it counts.
SSR Technology
TheSSR system is a runflat technology developed by Continental especially for low section tyres, which still keeps the tyres compatible with all standard rims. The SSR principle is based on a self-supporting reinforced sidewall. In case of a puncture, this prevents the sidewall from being crushed between the rim and the road, and the tyre from slipping off the rim, which makes a spare trye obsolete. Not having to carry a spare tyre means a reduction in weight, which improves fuel efficiency. It also adds up to 80 litres of free space in the trunk. Fitting on four positions is highly recommended, if not yet mandatory by law and a tyre repair is not allowed.